HARLEY DAVIDSON DYNA LOW RIDER BATWING FAIRING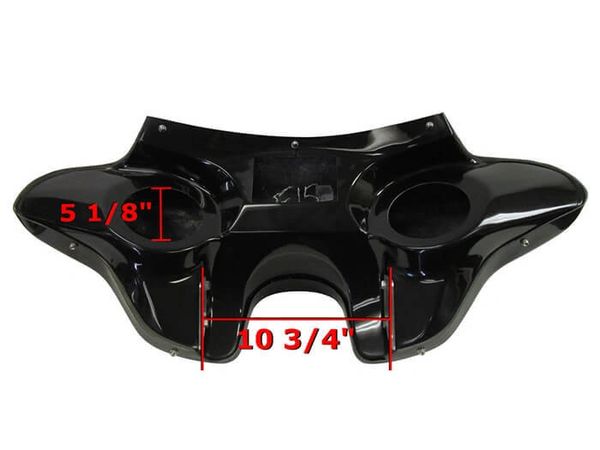 HARLEY DAVIDSON DYNA LOW RIDER BATWING FAIRING
PLEASE NOTE AUDIO WILL NOT BE INSTALLED due to various bike models, factory upgrades, and custom aftermarket parts so some modification may be necessary.
Designed to fit:
2006 - 2009 Harley-Davidson Dyna Low Rider
There are lots of reasons to love a Dyna Low-Rider, but the one that stands out is comfort. With an adjustable seat and adjustable handlebars, this is a bike that will provide hours of great riding, if you take the time to set it up just right. You can add even more comfort with a DEVIOUS Batwing Fairing. This is the fairing with the quality, workmanship and style you demand at a price you can afford.
Constructed of hand laid fiberglass and finished in black gelcoat that's as smooth as it is tough, you'll ride with added comfort for years to come. Road debris and wind are sent over your head and kept away from your hands, so you won't become exhausted from all that buffeting. Plus, you'll have your music, GPS and other electronics safely mounted at your fingertips. Oh, and as a bonus, a DEVIOUS Batwing Fairing reduces drag, which can improve fuel economy. Decisions really don't get a whole lot easier than this. Go for the comfort, style, quality and economy you can afford. And make a great ride even better.
There are many different models, factory upgrades, and custom aftermarket parts so some modification may be necessary. Fairings come designed to accommodate 2 x 5.25" speakers but can accommodate 2 x 6.5" speakers by enlarging the existing holes. Each fairing comes with 2 free windshields, one clear and one tinted.
Note: Relocation of the front turn signals is required.
Note: In order to install this fairing you must have Memphis Shades Adjustable Fork Clamps for 49-52mm Forks (not included). These clamps can be purchased separately from Memphis Shades.
Note: Because the Dyna Low Rider is a smaller motorcycle, this fairing is smaller than other fairings that we offer. As a result, the space to accommodate the audio receiver is smaller. This fairing has limited depth. The current cutout is 3 ½" x 5 ½" and will accommodate a receiver up to 3" deep. We recommend the following audio options – Milennia models PRV21 or PRV22; Infinity model INFPRV250; Rockford Fosgate models PMX-0 or PMX-2.
OTHER DETAILS
OVERALL DIMENSIONS:
35.75' W x 12.5 H x 6.5" Deep
STEREO OPENING DIMENSIONS:
5 1/2" W x 3 5/8" H
SPEAKER OPENING DIMENSIONS:
4 5/8" Diameter; 3 '' Deep
WINDSHIELD HEIGHT:
5 1/2'' H