HARLEY DAVIDSON DYNA SUPER GLIDE AND SUPER GLIDE CUSTOM BATWING FAIRING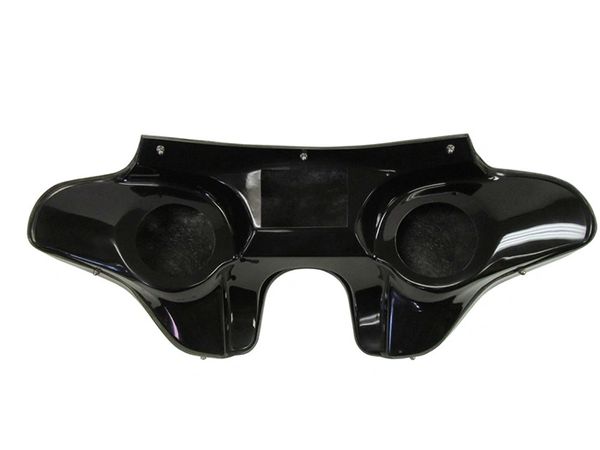 HARLEY DAVIDSON DYNA SUPER GLIDE AND SUPER GLIDE CUSTOM BATWING FAIRING
PLEASE NOTE AUDIO WILL NOT BE INSTALLED due to various bike models, factory upgrades, and custom aftermarket parts so some modification may be necessary.

The early Super Glide was known as the first factory customized motorcycle. Now, that may not make a lot of sense, but there was something behind it. It was created by taking the nimble, simpler front end of a Sportster and mating it to the chassis of a big twin. So, the factory was doing what a lot of owners did then – and continue to do today. That is, putting together their favorite components to get just the riding style and looks they were after.
Now based on the Dyna frame, the Super Glide continues the tradition of making A Harley into MY Harley. If you're planning to spend a lot of time in the saddle, a DEVIOUS Batwing Fairing should be your very first upgrade when you take ownership of your Dyna Super Glide. Why? Because you'll avoid a ton of wind buffeting and road debris, making every ride more enjoyable. Plus, you'll have your electronics at your fingertips, which is not only handy, but safer. You'll have no trouble installing your new fairing and it will last for years because, like high-end racing fairings, it's made of hand laid fiberglass, not el-cheapo ABS plastic. Make your Dyna Glide actually glide with a new DEVIOUS Batwing Fairing.
Designed to fit:
2006 - 2010 Harley-Davidson Dyna Super Glide
2006 - 2014 Harley-Davidson Dyna Super Glide Custom
There are many different models, factory upgrades, and custom aftermarket parts so some modification may be necessary. Fairings come designed to accommodate 2 x 5.25" speakers but can accommodate 2 x 6.5" speakers by enlarging the existing holes. Each fairing comes with 2 free windshields, one clear and one tinted.
Note: Relocation of the front turn signals is required. Speedometer relocation required if located on handlebars.
Note: In order to install this fairing you must have Memphis Shades Adjustable Fork Clamps for 49-52mm Forks (not included). These clamps can be purchased separately from Memphis Shades.
Note: Because the Dyna Super Glide is a smaller motorcycle, this fairing is smaller than other fairings that we offer. As a result, the space to accommodate the audio receiver is smaller. This fairing has limited depth. The current cutout is 3 ½" x 5 ½" and will accommodate a receiver up to 3" deep. We recommend the following audio options – Milennia models PRV21 or PRV22; Infinity model INFPRV250; Rockford Fosgate models PMX-0 or PMX-2.
OTHER DETAILS
OVERALL DIMENSIONS:
35.75' W x 12.5 H x 6.5" Deep
STEREO OPENING DIMENSIONS:
5 1/2" W x 3 5/8" H
SPEAKER OPENING DIMENSIONS:
4 5/8" Diameter; 3 '' Deep
WINDSHIELD HEIGHT:
5 1/2'' H