HONDA VTX 1300/1800 BATWING FAIRING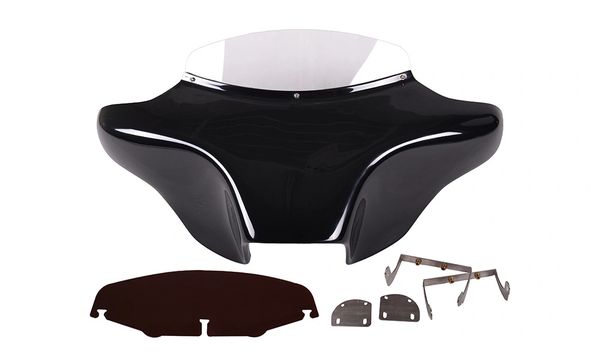 HONDA VTX 1300/1800 BATWING FAIRING
PLEASE NOTE AUDIO WILL NOT BE INSTALLED due to various bike models, factory upgrades, and custom aftermarket parts so some modification may be necessary.

Roaring from the past with exhaust valves inspired by the 1962 P51 Mustang and blazing a path towards the future with its massive 1800cc liquid cooled engine, the beefy 2002 Honda VTX 1800 became synonymous with bone-crushing torque. Building on the success of the 1800, Honda released the lighter weight VTX 1300 a year later. With their seminal designs, both of these muscular V-Twin eXtremes began amassing cult-like followings upon their introductions in 2001 (2002 Honda VTX 1800) and 2002 (2003 Honda VTX 1300). To date, fans of the VTX 1800, the onetime "largest production v-twin motorcycle in the world", still marvel at its power.
We construct our Honda VTX 1800 and Honda VTX 1300 fairings through the time honored process of hand laying woven glass mat and resin. Once cured, we seal the inner and outer shells with a protective gelcoat creating beefy high-gloss batwing fairings that are VTX and fan worthy.

Fits the following models:
Honda 1300 VTX 1300C

Honda 1300 VTX 1300R (S) Retro

Honda 1300 VTX 1300T Tourer

Honda 1800 VTX 1800C

Honda 1800 VTX 1800F

Honda 1800 VTX 1800N

Honda 1800 VTX 1800R (Retro)

Honda 1800 VTX 1800S

Honda 1800 VTX 1800T (Tourer)
Important Fitment Details:
Fits the following
'02 and newer VTX 1800

'03 and newer VTX 1300
Note: works with stock turn signals, does not work with Driving Lights/Turn Signals
OTHER DETAILS
SPEAKER OPENING DIMENSIONS:
2 - 6"X9" SPEAKER MODEL:
8 1/2'' L x 5 3/4'' H; 3'' Deep
4 - 5 1/4" SPEAKER MODEL:
4 5/8" Diameter; 2 1/4'' Deep
2 - 6 1/2" SPEAKER MODEL:
5 1/8" Diameter; 3 '' Deep
OVERALL DIMENSIONS (WITHOUT WINDSHIELD):
39 1/2'' L x 111/2'' W x 17" H
WINDSHIELD HEIGHT:
5 1/2'' H