HARLEY DAVIDSON SPORTSTER BATWING FAIRING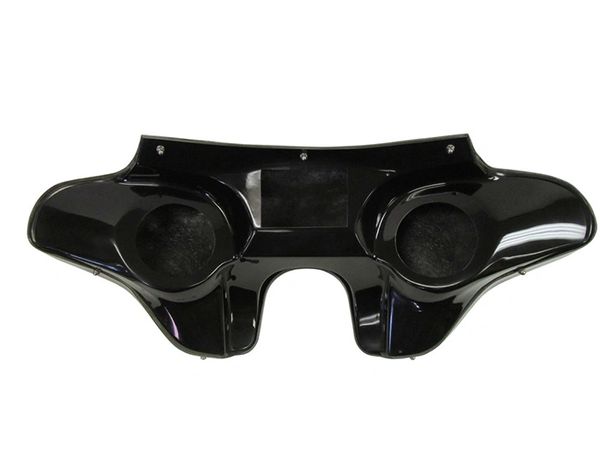 HARLEY DAVIDSON SPORTSTER BATWING FAIRING
PLEASE NOTE AUDIO WILL NOT BE INSTALLED due to various bike models, factory upgrades, and custom aftermarket parts so some modification may be necessary.
The Harley-Davidson Sportster has been in production since 1957. Many consider it the first motorcycle imbued with today's Harley DNA. If you ride one, you may feel a sense of history or nostalgia. The feel of the road under your tires and the wind in your hair may take you back to simpler times. After a while, though, that wind can make a longer ride feel less than ideal. A DEVIOUS batwing fairing can redirect the wind, adding comfort to the riding experience and lowering wind resistance, which also improve fuel economy.

You'll also have a place to mount your onboard entertainment components, putting them within easy reach for added safety. You won't have to settle for cheap ABS plastic to get a great value. DEVIOUS fairings are constructed with hand laid fiberglass and have a tough gelcoat finish that resists scratches and provides a smooth surface for custom paint and finishing.
With an easy-to-install DEVIOUS batwing fairing in place, your classic will reflect your personality and taste and be even nicer to ride.
Designed to fit:
2004-2010 Harley-Davidson Dyna Sportster 1200C
1991 – 2005 Harley Dyna Super Glide
1991 – 2005 Harley Dyna Low Rider
There are many different models, factory upgrades, and custom aftermarket parts so some modification may be necessary. Fairings come designed to accommodate 2 x 5.25" speakers but can accommodate 2 x 6.5" speakers by enlarging the existing holes. Each fairing comes with 2 free windshields, one clear and one tinted.
Note: Dyna Super Glide and Low Rider require relocation of the front turn signals. If mounted on top of the handlebars, then the speedometer will have to be relocated.
Note: In order to install this fairing you must have Memphis Shades Adjustable Fork Clamps for 35-43mm Forks (not included). These clamps can be purchased separately from Memphis Shades.
Note: Because the Sportster is a smaller motorcycle, this fairing is smaller than other fairings that we offer. As a result, the space to accommodate the audio receiver is smaller. This fairing has limited depth. The current cutout is 3 ½" x 5 ½" and will accommodate a receiver up to 3" deep. We recommend the following audio options – Milennia models PRV21 or PRV22; Infinity model INFPRV250; Rockford Fosgate models PMX-0 or PMX-2.
OTHER DETAILS
OVERALL DIMENSIONS:
35.75' W x 12.5 H x 6.5" Deep
STEREO OPENING DIMENSIONS:
5 1/2" W x 3 5/8" H
SPEAKER OPENING DIMENSIONS:
4 5/8" Diameter; 3 '' Deep
WINDSHIELD HEIGHT:
5 1/2'' H