HARLEY DAVIDSON DYNA STREET BOB BATWING FAIRING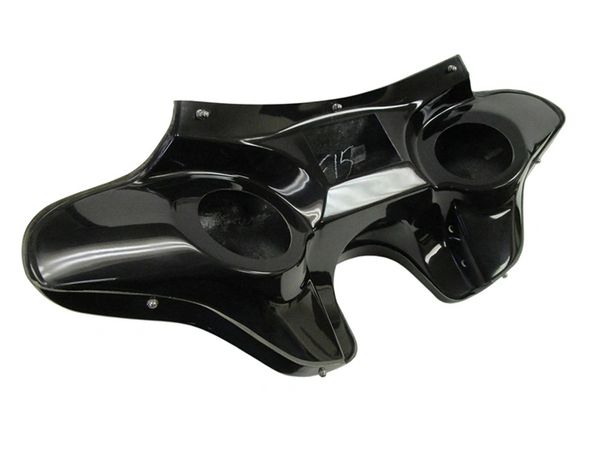 HARLEY DAVIDSON DYNA STREET BOB BATWING FAIRING
PLEASE NOTE AUDIO WILL NOT BE INSTALLED due to various bike models, factory upgrades, and custom aftermarket parts so some modification may be necessary.
Designed to fit:
2006 - present Harley-Davidson Dyna Bob
Minimalist is the perfect description for the Street Bob. It's also a concept you can take too far. The whole idea of this bike is to keep only the essential elements of a great two-wheeled machine. But, what's essential to some is unnecessary fluff to others. If you demand a certain level of comfort when you ride, not to mention an added touch of style, a DEVIOUS Batwing Fairing can be as essential as any other part of your Street Bob.
Minimal or not, the Street Bob is still a Harley, so you certainly don't want to be mounting some stamped out piece of cheap ABS plastic to it. Especially when you can afford an easy-to-install DEVIOUS Fairing that's carefully constructed of hand laid fiberglass, like most racing fairings, and finished with a tough, smooth gelcoat for long lasting good looks. Add-in the ability to mount your favorite electronics right there in front of you, and this so-called accessory quickly becomes a necessity. Even on a Street Bob.
There are many different models, factory upgrades, and custom aftermarket parts so some modification may be necessary. Fairings come designed to accommodate 2 x 5.25" speakers but can accommodate 2 x 6.5" speakers by enlarging the existing holes. Each fairing comes with 2 free windshields, one clear and one tinted.
Note: Relocation of the front turn signals is required.
Note: In order to install this fairing you must have Memphis Shades Adjustable Fork Clamps for 49-52mm Forks (not included). These clamps can be purchased separately from Memphis Shades.
Note: Because the Dyna Bob is a smaller motorcycle, this fairing is smaller than other fairings that we offer. As a result, the space to accommodate the audio receiver is smaller. This fairing has limited depth. The current cutout is 3 ½" x 5 ½" and will accommodate a receiver up to 3" deep. We recommend the following audio options – Milennia models PRV21 or PRV22; Infinity model INFPRV250; Rockford Fosgate models PMX-0 or PMX-2.
OTHER DETAILS
OVERALL DIMENSIONS:
35.75' W x 12.5 H x 6.5" Deep
STEREO OPENING DIMENSIONS:
5 1/2" W x 3 5/8" H
SPEAKER OPENING DIMENSIONS:
4 5/8" Diameter; 3 '' Deep
WINDSHIELD HEIGHT:
5 1/2'' H