HARLEY SWITCHBACK FAIRING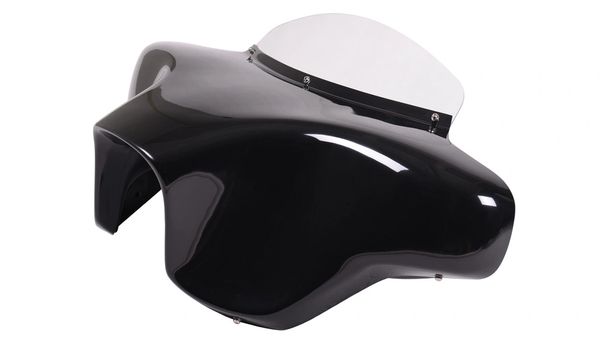 HARLEY SWITCHBACK FAIRING
PLEASE NOTE AUDIO WILL NOT BE INSTALLED due to various bike models, factory upgrades, and custom aftermarket parts so some modification may be necessary.
Born of passion for travel and love of power, Harley-Davidson conceived a retro-classic motorcycle with a contemporary twist. Designed with detachable saddlebags and windshield, this motorcycle switches from touring bike to cruiser and back again within minutes. Harley-Davidson's versatile, 103 twin cam motor bike is the H-D Dyna Switchback.
Our Harley Switchback fairings are the pinnacle of style and function. Formed through the arduous process of hand-laying glass mat and resin, we build beefy batwing fairings that are then sealed with a protective gelcoat. The result is a high-gloss product that not only looks great but is also durable enough to endure season after season of Mother Nature's ever changing moods. Moreover, our Switchback fairingsare equipped with brackets that allow you to quickly switch your bike from cruiser to tourer and back again —depending on your mood.
Our quality fairings are made from hand laid fiberglass and are finished in a durable black gelcoat. They are designed to fit 2012-present Harley Switchback but there are many different models, factory upgrades, and custom aftermarket parts so some modification may be necessary. Each fairing comes with 2 free windshields, one clear and one tinted.
Fairing Features

Sleek

Aerodynamic

design

Mounting Brackets & Hardware Included

Similar to compounds used on marine craft and aircraft

Battles ultraviolet degradation

NOT a primer has a

clear coat

Paintable anytime

FREE Windshields Included - one clear and one tinted

True Hand Laid Fiberglass -

lighter and stronger than ABS plastic
NOTE: The brackets provided are designed to fit the widest possible range of bikes. Please note that, in some instances, you may be required to drill new bracket mounting holes in the fairing, use washers as shims or even purchase additional aftermarket mounting brackets.
OTHER DETAILS
SPEAKER OPENING DIMENSIONS:
2 - 6"X9" SPEAKER MODEL:
8 1/2'' L x 5 3/4'' H; 3'' Deep
4 - 5 14" SPEAKER MODEL:
4 5/8" Diameter; 2 1/4'' Deep
2 -6 1/2" SPEAKER MODEL:
5 1/8" Diameter; 3 '' Deep
OVERALL DIMENSIONS (WITHOUT WINDSHIELD):
39 1/2'' L x 111/2'' W x 17" H
WINDSHIELD HEIGHT:
5 1/2'' H